Photos courtesy of Paul Dotson
SHERIDAN — The never-say-die Bryant Black Sox Senior American Legion team found a secret weapon in Scott Schmidt while the frustrated Logan Allen found his hitting stroke in a wild and crazy battle at Oliver Williams Field Wednesday night against the McCoy-Tygart Yellowjackets' Senior team.
In a game they once led 6-2, the Sox found themselves down 11-7 going into the final inning. Sheridan had rallied for a 7-6 lead in the bottom of the fourth then, after Bryant tied it at 7, the Jackets scored four times in the top of the seventh to gain what looked like it might be the winning margin.
But, a night after chasing down and beat the Little Rock Vipers, the Sox erupted for seven runs in the top of the seventh to push out to a 14-11 lead.
Schmidt, the Sox' starting second baseman seldom called on to pitch, had become the fifth Bryant pitcher of the game in the sixth. He came in with runners at first and second and no one out. He proceeded to induce three consecutive pop-outs to keep it 11-7.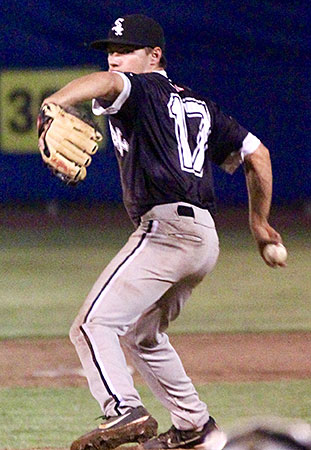 After the Sox took the lead in the top of the final frame, Schmidt retired the first two (including another popup, and appeared to have Hunter Hicks struck out on two borderline calls. Hicks managed an infield hit and took second on a wild pitch. But Schmidt got Nick Whitley to tap a slow roller to first. Brandon Hoover ranged to his right to field it and tossed to Schmidt who reached for the throw and still kept a two on the first-base bag to end the game.
Allen, who had been stinging the ball regularly, had managed to get very few to fall in for him in recent games. But at Sheridan, he came through with a bases-loaded triple to make it 6-2 in…
click here to read more.